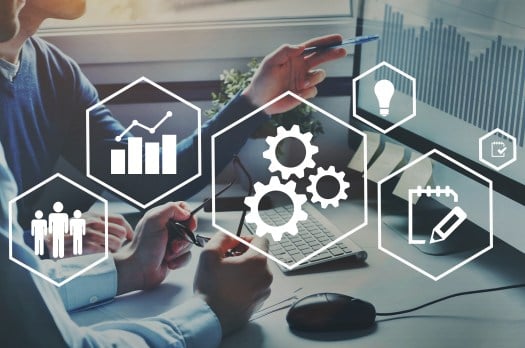 Every business has core processes that define how the company functions. Some of the most common are human resources, marketing, sales, operations, accounting, and customer retention.
If you lead your busines using EOS (Entrepreneurial Operating System), you know that Process is the fifth of 6 core elements of building a thriving business.
In the EOS model, processes are handled like this. Each core process is written and followed by everyone in the organization. When processes are consistent and fine-tuned, your company runs like a well-oiled machine. Processes executed the same way every time produce a reliable, quality, error-free result.
Giving each process a simple name betters your chances that everyone in the company will remember it and follow it easily. Visual depictions of processes, in 3 to 7 major steps, are a terrific way to entrench them in your organization.
Bind all your processes together and you have a streamlined, cohesive, and consistent way that your company does business.
Read more about EOS here.
If you have questions about EOS or other financial challenges for your organization, please let us know how we can help
At All In One Accounting, we take businesses from financial chaos to business clarity and beyond. Our elite team of Accountants, Controllers, and CFOs are ready to help you in these uncertain times. Visit our website here for a free consultation with one of our accounting professionals.
---