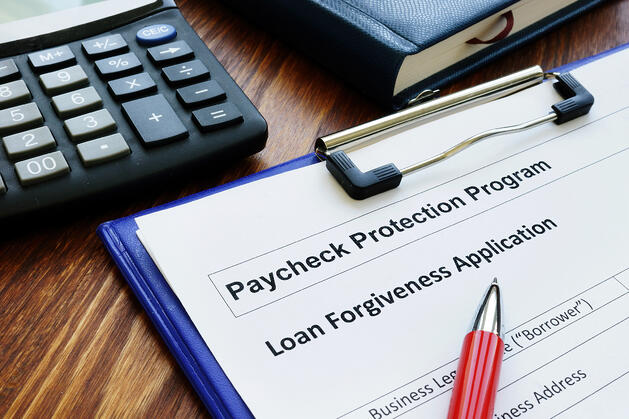 Are you confused or overwhelmed about filing your application for Paycheck Protection Program (PPP) loan forgiveness? Here's what you need to know to calculate your forgiveness amount, submit your application to your lender, and record the loan proceeds and related expenses on your books.
Deadline for filing the forgiveness application
The terms of your loan state that it must be completely repaid or forgiven either two or five years after the loan origination date. Technically, according to the law, you have until that date to file for forgiveness. However, from a practical perspective, it's in your best interest to file much sooner.
Your lender will require you to make loan payments starting 10 months after the end of the covered period, so it is best to submit your application for forgiveness before this date. Submitting the application will halt loan servicing, even if approval is not yet received.
Check your loan documents or consult with your lender to confirm the end date of your covered period. In no event will the covered period extend beyond December 31, 2020.
Calculating the amount forgiven
You can calculate your payroll costs on either an 8-week or 24-week covered period. Payroll costs are based on each employee's gross earning, capped at $100,000 per employee, excluding the employer's portion of FICA taxes.
When adding up your payroll costs, be sure to include lost tips, commissions, bonuses, and other forms of incentive pay. Health care benefits and retirement contributions paid by the employer are also included, but premiums and contributions paid by the employee are not.
There are two ways to calculate payroll for part time employees. You can either tally the actual hours paid, or you can convert your part-time employees into full time equivalents (FTEs) and calculate the cost based on your total FTEs. You should calculate the cost both ways to see which is most beneficial to you.
There are many intricacies around accounting for employees who voluntarily resign, reduce hours, or decline a rehire offer after being laid off. Likewise, there are special calculations to account for positions that became vacant and cannot be refilled. Payroll costs that fall under the Families First Coronavirus Response Act (FFCRA) require special handling. Consult your accountant if these scenarios apply to you.
Nonpayroll costs that can be included in your forgiveness amount are mortgage interest, rent, and utilities. Include only the costs incurred during the 8-week covered period, not the alternative 24-week covered period.
Assembling your paperwork
Lenders differ on what specific paperwork must accompany your application. Check with your lender to confirm what they need. Some lenders will ask you to complete a summary expense form, on which you tally all your expenses. They may also have a portal through which you must upload your paperwork.
These are documents commonly required by most lenders:
Forms 941 for quarters in the covered period

Lease agreements, invoices from your landlord and proof of rent payments

Utility invoices and proof of payment

Health insurance invoices and proof of payments

Details of retirement account (401k) employer matches

Copy of the applicant's driver's license
Getting your forgiveness application approved
Once your loan is presented to the lender, it will be reviewed and then sent to the Small Business Administration (SBA) within 60 days of receipt for their ultimate approval. The SBA has 90 days to approve the application. The SBA will then send the forgiven amount to the lender, reimbursing them for the loan they made to you. The lender will inform you when they receive funds from the SBA, indicating the process is complete.
If the SBA does not forgive the loan in full, the lender will inform you of the amount remaining, which you will be responsible for repaying. The lender will provide you with the payment amount and schedule. The balance of the loan must be paid by the maturity date, either two or five years after the loan origination date.
If you received an Economic Injury Disaster Loan (EIDL) advance, the SBA will deduct it from the forgiven amount of the PPP loan.
Recording the loan and forgiven expenses on your books
Loan proceeds you received should be recorded on your books as an offset against the payroll and other expense line items on your income statement. This results in a zero effect on your income statement. The proceeds are not included in income and the expenses are not deducted. Essentially, the government paid your payroll and other expenses. If you were to deduct them on your income statement, that would be double dipping.
2020 has been a year of financial firsts for many of us. If you have additional questions about PPP forgiveness or other unexpected financial challenges for your organization, please let us know how we can help.
At All In One Accounting, we take businesses from financial chaos to business clarity and beyond. Our elite team of Accountants, Controllers and CFOs are ready to help you in these uncertain times. Visit our website here for a free consultation with one of our accounting professionals.
Follow Us On Facebook | Learn More About All In One Accounting | Contact Us
Tags: COVID-19, Resources, PPP