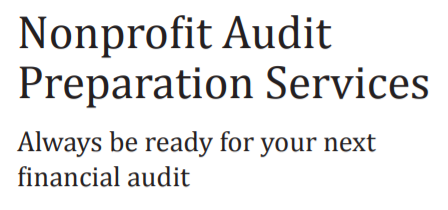 Focus on your mission, not your audit:
A successful audit is critical for achieving your nonprofit's
mission. And thoughtful preparation is the key to that success.
Our experienced financial team can help you do things right the
first time, saving you from unneeded complications and costs
that distract you from your mission.

Eliminate issues before they occur:
We speak the auditor's language and teach you to do the same.
We format your financials as your auditor expects to see them,
saving time and avoiding misunderstandings. If there is an issue,
we frame it in a way that puts you in the best possible light.